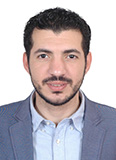 A. Prof. Hazem Samih mohamed, Southwest Petroleum University
Research Area:

Structural engineering and Fatigue assessment of tubular joint

Brief introduction:
Hazem Samih Mohamed, Male, Born in 1987, Egyptian, Associate Professor. Obtained his Bachelor's Degree on 2009 from Benha University, Cairo, Egypt. And obtained his master's degree and Ph.D. degree in Structural Engineering from Huazhong University of Science and Technology, Wuhan, China in 2013,2017 respectively. Since 2017.11, he has been an Associate Professor at the School of Civil Engineering and Geomatics, Southwest Petroleum University, Chengdu, China. He has Published over 19 technical papers including 12 in a peer-reviewed high-quality international SCI indexed international journal such as Journal of Construction Steel Research (JCSR), Construction and Building Materials. As well as supervised 5 Master's students. His research interest in Steel structures, Fatigue assessment, Tubular joints, CFRB and Pre-stressing of steel beams.

Hazem Samih mohamed 副教授,西南石油大学
研究领域:

管接头结构工程与疲劳评估

简介:
Hazem Samih Mohamed,男,埃及人,工学博士,副教授,硕士生导师。2009年毕业于埃及本哈大学并获得学士学位。2013年至2017年在华中科技大学学习并获得硕士、博士研究生学位。自2017年11月起,在西南石油大学土木工程与测绘学院担任副教授至今。发表了包括12篇SCI共计17篇的论文。研究领域包括钢结构、疲劳分析、相贯节点、CFRP和预应力结构。《Ships and Offshore Structures》、《Engineering Failure analysis》及《KSCE journal of Civil Engineering》杂志审稿人。